UVC Mobile devices
https://www.americanultraviolet.com/germicidal-healthcare-solutions/documents/AUV-OR-Package-brochure.pdf
The ARTZ (Automatically Reliably Targeting Zero) Mobile Room Germicidal UVC Solution with the goal of targeting zero infections. The ARTZ is less expensive, more efficient, and more effective than any other comparable mobile room germicidal UV sterilization device in the marketplace. We recommend using it as the final step during terminal cleaning of patient rooms or surgical suites, or in any other areas of your facilities where harmful pathogens may be present.
Fast
Sets up quickly with pre-programmed remote control

Features high-output UVC flux

Disinfects high touch non-critical surfaces from pathogens in minutes
Effective
Delivers balanced and uniform UVC flux to surfaces and air; automatically delivers dose needed to reduce pathogens that include:

Methicillin resistant Staphylococcus aureus (MRSA)

Clostridium difficile – spore forming bacteria

Acinetobacter baumannnii

Vancomycin resistant enterococcus (VRE)

Extended Spectrum Beta Lactamase Producers (ESBL) – gram negative bacteria

Influenza virus (Avian, Influenza A)

Other bacteria, virus, or fungi (please contact Team Ultraviolet regarding microbes of interest not listed)

Preset color screen remote control targets desired microbes; if preferred, ARTZ can be set manually to provide required dose

Unique visual indicators provide immediate feedback when sufficient UVC dose has been delivered to desired surfaces
Safe
360° motion sensor - ARTZ automatically shuts off if room is entered for any reason during treatment
Downloadable Data
Automatic document control helps reduce or eliminate human error during data collection

Wirelessly downloads acquired session data to a computer

Measures productivity and time management

Remote control records session log-in, users, dates, device locations; device run time; device settings
User-friendly
No significant special training required

Easily operated by anyone after preliminary training

No special room preparation required, as device is strategically placed inside treatment room
Green Technology
Produces no ozone or other secondary contaminants

No special lamp recycling required

No additional chemicals necessary

No waste is generated
Download Mobile ARTZ Brochure (English)
Download Mobile ARTZ Brochure (French)
MRS33-8 Mobile UV Unit
This unit uses 360 degree motion sensors as a safety precaution and features eight (8), 33" slimline UVC lamps optically centered around a highly polished reflector for maximum intensity. System controls are located directly on the unit, which allows utilization of a touchscreen with 3 pre programmed disinfection cycle times, and the option to manually set disinfection cycles times.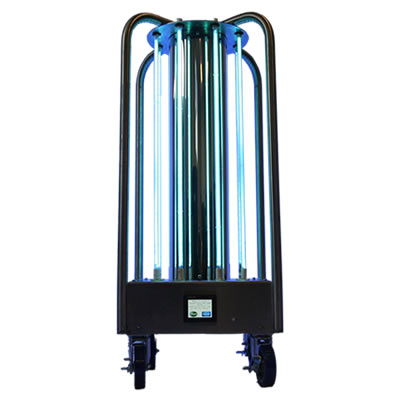 Features
304 stainless steel construction

Motion sensor for 360-degree automatic shut-off

Large, high quality, locking casters for ease of transport

120/220 Volt, 50/60 Hertz

Formed stainless tube structure protects lamps and improves ability to handle and transport the unit

Access panel for ease of maintenance

Touchscreen controller with preset and manual disinfection

15 foot power cord
Technical Specifications